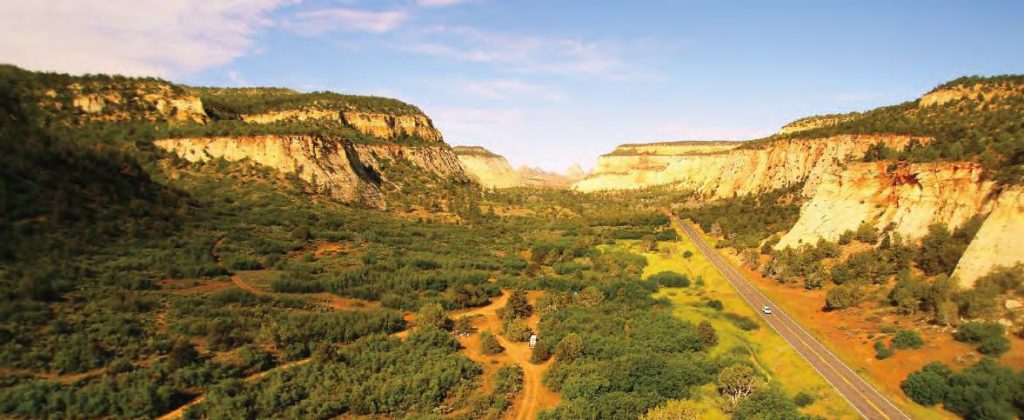 Project Mission
The east entrance to Zion National Park, is the last undeveloped and unprotected gateway to a National Park in the continental US. The mission of the McLaws Family and their partners is to create a conservation-based, sustainable economy rooted in providing immersive experiences that grow a community of park stewards.
Gateway communities to our natural wonders often do not or have not been developed with guiding principles. The driver typically is the exploitation of an attraction for an economic outcome.
The design of Zion Mountain on the eastern boundary of Zion National Park considers what is appropriate, supportive, sustainable, and looks with a long-term view in planning and land stewardship. Zion Mountain seeks collaboration with our resource stewards in all efforts and supports their mandates in design and fiscal models.
These development and design principles are illustrated in part with the Zion Mountain Taxonomy Tree: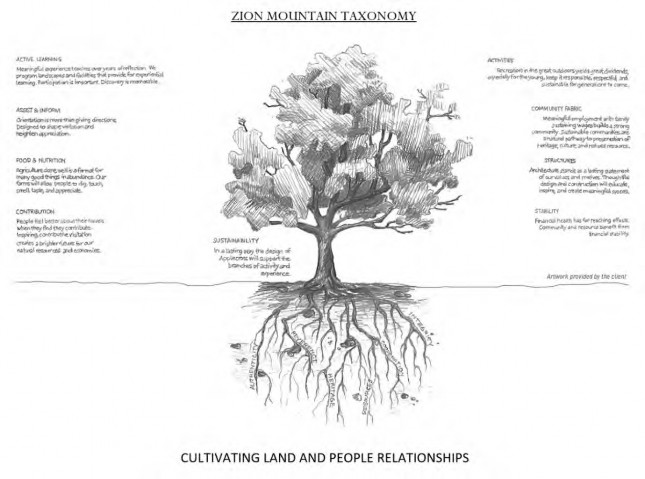 Project Summary & Overview
Zion Mountain Local Services District (ZMLSD), which was carved out of the East Zion Special Services District, a member of the Utah Association of Special Districts, was created to provide wastewater treatment for the projects within the East Zion Initiative ("EZI"), a new gateway community at the east entrance to Zion National Park. The EZI masterplan includes multiple complementary facilities for lodging, interpretation, education, and recreation, which include the Zion Mountain Lodge, the Visitor Center at Applecross, Zion Ponderosa, and Spirit Ranch. Future expansion will include Clear Creek, High Grounds and Zion Mountain Ranch.
The ZMLSD Wastewater Treatment Plant (the "Project") will be operated by a third-party operator and overseen by the ZMLSD directly. Biohabitats, the Wastewater Treatment Plant (WWTP) lead designer, will provide operational training and oversight of the facility and operations team upon start-up and on as needed basis thereafter.
The ZMLSD will be supported by connection fees and assessments from the various projects utilizing their wastewater treatment system facilities, along with revenues generated by the sale of Type I non-potable water for toilet flushing and ornamental irrigation and Type II non-potable water for agricultural use.
The project area includes two districts which will be served by one centralized wastewater management facility:
Zion Mountain Local Services District (ZMLSD) is the Owner of the Project.
East Zion Special Services District (EZSSD) is the neighboring and contributing district
The project will be constructed in three (3) primary phases, with considerations for Phase 1 being constructed in two phases. By permitting Phase1 together and having phases 1A and 1B of construction, the project can reduce the initial financial investment while offering the flexibility to increase the facility's capacity without entering the lengthy permitting process. Additional flows and expansions will warrant the collection of operational data from the facility to inform the design team and permitting authorities decision making.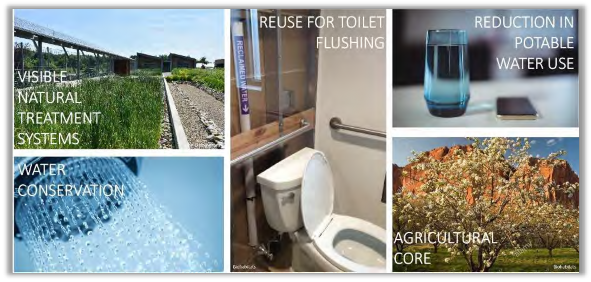 Contributing Projects
The project is designed to accommodate the EZI projects in a three-phase approach with considerations for Phase 1 being separated into two construction phases. Additional analysis is necessary to further explore the split phase 1 construction approach. Programming and design flow projections for Phases 2 and 3 are conceptual in nature and subject to change as planning goals for the area evolve. Allowances have been made on the site for planned growth beyond Phase 1 to ensure the project can physically accommodate future growth. The Team used the following assumptions for project phasing represented as a Project Delivery and connection schedule:
Phase 1
Zion Ponderosa (Existing) October-2023
Spirit Ranch (Phase 1 and 2) October-2023
Applecross Station Visitor Center October-2023
Zion Mountain Lodge October-2024
Work Force Housing October-2024
Clear Creek (Existing) Q1-2025
High Grounds Q2-2025
Phase 2
Zion Mountain Ranch Q3-2024
ZMR Peaches (Phase 1) Q3-2024
Zion Ponderosa (New) TBD
Applecross Station (SW, NE Quadrants) TBD
Phase 3
Spirit Ranch (Phase 3) TBD
ZMR Peaches (Phase 2) TBD
Clear Creek (New) TBD
Baby Ridge TBD